I veckan höll EU-kommissionen ännu ett möte för att försöka uppnå en någorlunda enhetlig implementering av det nya upphovsrättsdirektivet i medlemsstaterna.
»This week saw the sixth meeting of the EU stakeholder dialogue on the implementation of Article 17 of the new copyright directive. This meeting was the first one where the question of how to reconcile the protection of user rights' with automated filters based on technology that cannot assess the legality of the use of copyrighted works was explicitly on the agenda. From the perspective of the users' organisations participating in the stakeholder dialogue this is the main question that the stakeholder dialogue (and the guidelines that the Commission will have to issue afterwards) needs to address.

Unfortunately, Monday's meeting did not result in a productive discussion about how to protect users' rights. Proposals made by COMMUNIA and Studio71 on how to strike a balance between the rights of users and the interests of creators and other rightholders were largely ignored by a coalition of major rightholders from both the music and the audio-visual sectors.«
Fortsatt låsta positioner, med andra ord. Samtidigt går arbetet med att göra nationell lagstiftning av direktivet vidare.
Här är Communias förslag till en process som skulle kunna respektera användarnas rättigheter – och släppa fram memes, satir, kritik med mera som automatiska filter inte kan identifiera: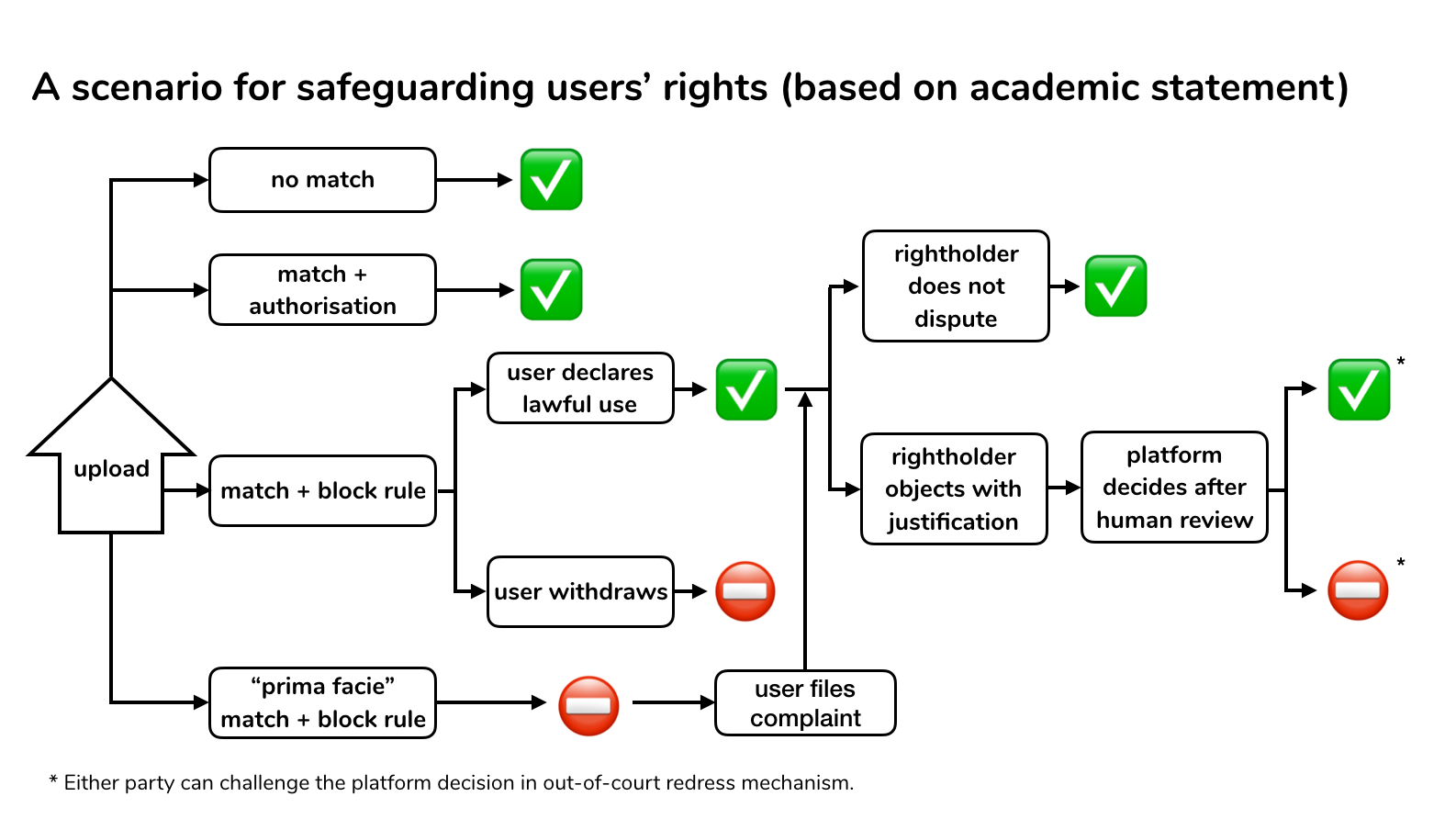 Förslaget stöds av fler än 50 forskare med koppling till upphovsrättsfrågorna. Men upphovsrättsindustrin säger (med ett fåtal undantag) nej.
With the major AV and music rightholders unwilling (or incapable, as their representatives in the stakeholder dialogue clearly lack the mandate to engage in a constructive manner) to contribute to finding a solution for the tensions inherent to Article 17, it is clear that the dialogue has hit a brick wall. The Commission – which has repeatedly made its dissatisfaction with the attitude of these rightholders clear – has announced that it will now "reflect on the input received and on a way forward". In practical terms this means that there will be no further meetings of the stakeholder dialogue until the end of march when the Commission will "share initial views on the content of the guidelines". These initial views should provide us with a first clue if the Commission has been listening to our proposals and concerns or if it will succumb to the bullying tactics of the major rightholders (who will undoubtedly attempt to assert additional political pressure during the next weeks).
Läs mer hos Communia: Article 17 stakeholder dialogue (day 6): Hitting a brick wall »