I förrgår släpptes Ios 11, den senaste versionen av Apples operativsystem för mobila enheter som Iphone och Ipad.
En nyhet värd att uppmärksamma är det som Apple kallar "intelligent tracking prevention", som blockerar tredjepartscookies i webbläsaren Safari. Blockeringen är så effektiv att den fått sex amerikanska annonsörsorganisationer att protestera mot funktionen i ett öppet brev, som publicerats av Adweek (via The Guardian).
Apple kontrar med att man inte blockerar annonsörer som spelar med öppna kort, bara dem som spårar surfarna över flera webbplatser. Läs mer om tekniken hos Webkit, som är den renderingsmotor, baserad på öppen källkod, som Safari använder.
Apple hyllas nu av amerikanska Electronic Frontier Foundation (EFF), som noterar att Apple ligger i framkant i integritetsfrågorna:
Apple has been a powerful force in user privacy on a mass scale in recent years, as reflected by their support for encryption, the intelligent processing of user data on device rather than in the cloud, and limitations on ad tracking on mobile and desktop.
EFF riktar också kritik mot annonsindustrin:
Rather than attacking Apple for serving their users, the advertising industry should treat this as an opportunity to change direction and develop advertising models that respect (and not exploit) users.
Kultfakta: Den svenska knutpunktsoperatören Netnod meddelade att trafiken slog rekord klockan 19 den 19 september 2017 – se graf nedan (facebooklänk). Netnod kan inte se vad trafiken gällde, men det var just då som Ios 11 blev tillgängligt att ladda ner!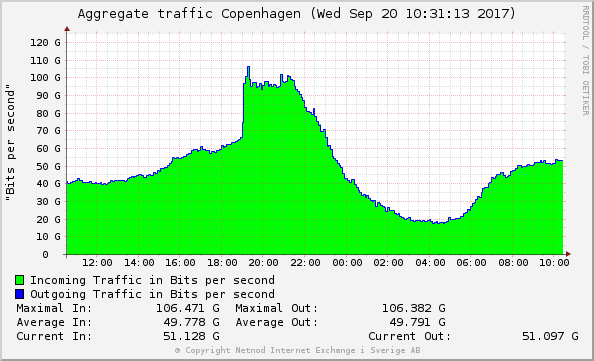 Mer kultfakta: En hel del av nyheterna på Femte juli skrivs numera på en Ipad Pro med Ios 11.