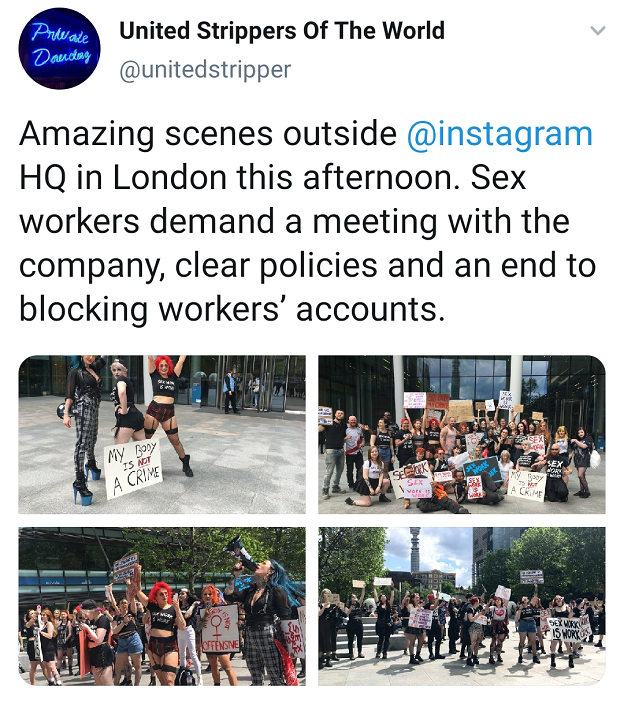 Instagram raderar porrskådespelares och sexarbetares konton trots att de inte innehåller varesig något naket eller stötande. BBC rapporterar…
»Hundreds of porn stars and sex workers had their Instagram accounts deleted this year, and many say that they're being held to a different standard than mainstream celebrities.

"I should be able to model my Instagram account on Sharon Stone or any other verified profile, but the reality is that doing that would get me deleted," says Alana Evans, president of the Adult Performers Actors Guild and one of the leading voices in the battle that adult stars are waging to stay on the platform.

Ms Evans' group has collected a list of more than 1,300 performers who claim that their accounts have been deleted by Instagram's content moderators for violations of the site's community standards, despite not showing any nudity or sex.

"They discriminate against us because they don't like what we do for a living," Ms Evans says.«
Möjligen finns det en tråkig förklaring:
»In late 2018, adult performers say, an individual or a number of individuals started a co-ordinated campaign to report accounts to social media platforms, with the clear intent of having them removed.«
Massanmälningar utan grund med enda syfte att få konton stängda, med andra ord.
Vilket är ett ofog som branschen måste försöka komma tillrätta med. Vore jag i Instagrams/Facebooks kläder – då skulle jag införa ett användarvillkor där de som okynnesanmäler konton (som inte bryter mot några regler) riskerar avstängning.
BBC: Why is Instagram deleting the accounts of hundreds of porn stars? »